Yamamoto Nutrition
Ultra B Advanced
, 60 Tablets
Vitamin B complex tablets for energy and metabolism support
Four B vitamins in one convenient dose to support the nervous, immune and circulatory systems
Product Overview
UltraBADVANCED


x1/2
Day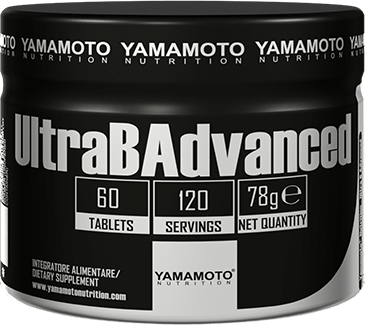 UltraBADVANCED
Yamamoto® Nutrition presents Ultra B Advanced®. Yamamoto® Nutrition Ultra B-Advanced® is a dietary supplement with a special formula which provides in a single intake, the benefits of integration of a complex of vitamins of group B. We know what the importance of this group of vitamins involved in the transformation of food into energy (see the conversion of carbohydrates into glucose), favoring the metabolism of lipids and proteins. Contribute in the reduction of tiredness and fatigue states, as the normal functioning of the nervous and psychological system.
Yamamoto has as its mission to create supplements that are of the highest scientific efficacy, and also in this case it is wanted to offer a "plus". It's called "methylcobalamin", and is a methylated form and definitely more absorbable of cobalamin (vitamin B12), with the result that taking even an even smaller dose will result in a greater bioavailability, reaching "a destination" where needed. When you maintain adequate levels of this cobalamin or vitamin B12, you will have the highest expression of this, supporting the nervous, immune and circulatory systems. Because of its effect of direct passage to the brain, this supplement can help increase mental functions such as memory and attention, with an improvement in your overall well-being.
Here quickly explained why these supplements are called "tonic".It is also noted that that methylcobalamin aid the body to synthesize melatonin more effectively and thus aid thus indirectly to regulate sleep cycles and circadian rhythms of the body. Another very curious and important benefit resulting from an adequate intake of this compound of methylcobalamin is that it can help the body in protection against harmful toxins. The presence of Choline bitartrate Inositol and will further support the liver function, in the important detoxification processes (methylated) that the B complex and assists in the metabolism of fats and cholesterol.
Here we could really say "the effective unity is strength"!
Ratings & Reviews
What's in Yamamoto Nutrition Ultra B Advanced
Serving Size: 1/2 tablet

60 Tablets Per Container: Servings

120

Nutrition Information: 1/2 Tablet

AR/RI*

Vitamin B12

33 mcg

1,320%

Vitamin B6

9.5 mg

679%

folic acid

200 mcg

100%

Pantothenic Acid

18 mg

300%

niacin

20 mg

125%

Vitamin B2

12.5 mg

893%

Vitamin B1

12.5 mg

1,136%

Biotin

225 mcg

450%

inositol

25 mg

Choline Bitartrate

25 mcg

Ingredients:

bulking agent: Microcrystalline Cellulose

, inositol

, Choline Bitartrate

, nicotinamide (niacin)

, Calcium D-Pantothenate (pantothenic acid)

, thiamin HCl (vitamin B1)

, Riboflavin (Vitamin B2)

, Pyridoxine Hcl (Vitamin B6)

, anti-caking agents: Magnesium salts of fatty acids

, Silicon Dioxide

, D-Biotin

, pteroyl-monoglutamic acid (folic acid).

, Cyanocobalamin (Vitamin B12)

* AR/RI = Reference Intake
Directions For Ultra B Advanced: take 1/2 tablet once a day with a glass of water.
Warnings: do not exceed the recommended daily dose. Food supplements should not be used as a substitute of a varied diet. A varied and balanced diet and a healthy lifestyle are important. Keep out of reach of young children. Keep in a dry place away from heat sources. Close Tightly.
Food Supplement
Manufactured for: IAF Network srl - Via Salvella II Traversa, 43 - 25038 Rovato (BS) - Made in Italy
* These statements have not been evaluated by the Food and Drug Administration. This product is not intended to diagnose, treat, cure, or prevent any disease.
---