Yamamoto Nutrition
BCAA Tabs
Contains 5g BCAAs per serving in 2:1:1 ratio
Enriched with vitamins B1 and B6
Product Overview
Bcaa

TABS

x5
Pre

Post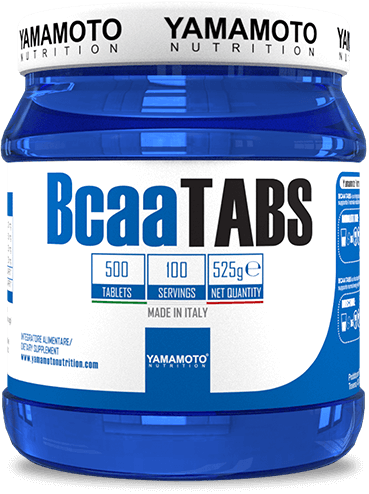 BcaaTABS
Branched Chain Amino Acids
Yamamoto® Nutrition Bcaa TABS is a branched chain amino acid dietary supplement with vitamins B1 and B6. The ingredients of Bcaa TABS are involved in the following physiological functions: energy metabolism (vit.B1), reduction of tiredness and fatigue (vit.B6).
Branched-chain amino acids (BCAA) are an important group of essential amino acids consisting of Leucine, Isoleucine and Valine. BCAAs are among the nine essential amino acids for humans, because our body is not able to produce them. The body's only supply is through daily diet or supplementation.
Branched chain amino acids (BCAA) account for 35% of the essential amino acids in muscle proteins. Leucine, Isoleucine and Valine are essential amino acids provided by different dietary proteins.
BCAAs can be taken as supplements, particularly recommended before intense training or demanding physical work. Bcaa TABS contain a 2:1:1 ratio of Leucine, Isoleucine and Valine.
Ratings & Reviews
What's in Yamamoto Nutrition BCAA Tabs
Serving Size 5 Tablets

Servings Per Container

38

Amount Per Serving

RI *

BCAA

5,000 mg

L-Leucine

2,500 mg

L-Valine

1,250 mg

L-Isoleucine

1,250 mg

Vitamin B1

.33 mg

30%

Vitamin B6

.6 mg

43%

* RI = Reference Intake

INGREDIENTS:

L-Leucine

, L-Isoleucine

, L-Valine

, Stabilizer: Microcrystalline Cellulose

, Anti-Caking Agents: Silicon Dioxide

, Magnesium Salt of Fatty Acids

, Pyridoxine Hydrochloride (Vitamin B6)

, Thiamin Hydrochloride (Vitamin B1)
Directions For BCAA Tabs: Take 5 tablets once a day with water or other favourite beverage, preferably 30-40 minutes before training or competition, or immediately after. On non training days the product can be taken at any time during the day.
Warnings: Do not exceed the recommended daily dose. Keep out of reach of young children. Food supplements should not be used as a substitute for a varied diet. A varied and balanced diet, and a healthy lifestyle are important. Do not use in pregnant women, children and anyway for extended periods without consulting a doctor.
Food supplement of branched chain amino acids with vitamin B1 and B6
IAF Network srl - Via Salvella II Traversa, 43 - 25038 Rovato (BS) - Made in Italy
* These statements have not been evaluated by the Food and Drug Administration. This product is not intended to diagnose, treat, cure, or prevent any disease.
---