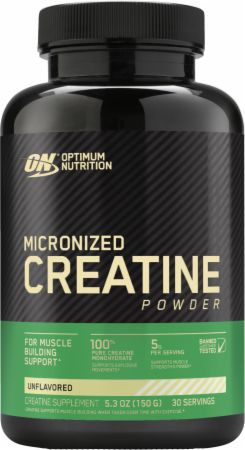 Optimum Nutrition
Micronized Creatine Powder
99.9% Pure Creatine
Unflavoured Creatine With No Fillers or Additives
Product Overview
MICRONIZED
CREATINE POWDER
Creapure Creatine Monohydrate
5 Grams of Creatine Monohydrate per Rounded Teaspoon Serving
99.9% Pure Creapure® Brand Creatine
Zero Added Sugar
Zero Calories
Ideal Usage Ocasions
Stacked Into Post-Workout Shake
Mixed Into a Flavored Beverage
Optimum nutrition true strength
True Strength is a journey. It never rests, it never quits. It's about overcoming obstacles, accomplishing goals, and recognizing achievements. And then it resets to achieve again. As your trusted sports nutrition partner in goal achievement, ON demonstrates that same passion while crafting our products. From the raw materials we source to our state-of-the-art manufacturing processes, no compromises are made. You set the bar higher after every workout, we set the bar higher to redefine the industry standards and ensure you realize optimum results.
Quality
An extensively studied sports nutrition ingredient, creatine monohydrate has been shown to support muscle size and strength gains. ON's creatine powder has been micronized to stay in solution longer and non-micronized powders, and because it's unflavored you can stack one rounded teaspoon into your post-workout protein shake or mix the powder into the flavored beverage of your choice.
CONSISTENCY
As one of the few companies to operate state-of-the-art manufacturing facilities that are GMP compliant, ON assures that every shake will mix up effortlessly because of its first-to-market instantization process.
History & Heritage
Optimum Nutrition is legendary for both quality and innovation. In addition to producing the world's best-selling whey protein, ON's Gold Standard 100% Casein introduced slow-digesting nighttime protein to the weight training world and Amino Energy created the anytime energy category in sports nutrition. When technology makes advancements possible, ON will be the company bringing it to you.
Ratings & Reviews
What's in Optimum Nutrition Micronized Creatine Powder
150 Grams

Unflavored

Serving Size 1 Rounded Teaspoon (5 g)

Servings Per Container

30

Amount Per Serving

Creatine Monohydrate

5 g

*

* Daily Value not established.

Other Ingredients

None.
Directions For Micronized Creatine Powder: Add 1 rounded teaspoon of Micronized Creatine Powder with a glass filled with 8-12 oz of cold water or fruit juice. Then mix it up with a spoon. TIP: Power-up protein, meal-replacement, and weight-gainer shakes with a rounded teaspoon of Micronized Creatine Powder .
SUGGESTED USE:
Creatine Loading: Take 1 rounded teaspoon of Micronized Creatine Powder with morning, afternoon, and evening meals and 1 additional rounded teaspoon before going to bed for 4-5 days to help saturate your muscles with creatine.
Creatine Maintenance: Take 1 rounded teaspoon of Micronized Creatine Powder with a meal or immediately after training with your post workout protein shake. TIP: Drink at least eight glasses of water daily when supplementing with creatine. Consuming simple carbohydrates with creatine may help improve overall effectiveness.
Warnings:
Do not exceed the recommended daily dose. Food supplements should not be used as a substitute for a varied diet and a healthy lifestyle. Store out of the reach of young children. Consult with a qualified healthcare professional before taking this product if you are pregnant, nursing, under 18 years of age, or if you have any known or suspected medical condition(s). Store in a cool, dry place.
Food Supplement.
* These statements have not been evaluated by the Food and Drug Administration. This product is not intended to diagnose, treat, cure, or prevent any disease.
---