Optimum Nutrition
Gold Standard 100% Whey Protein
Muscle Building Whey Protein Powder
24g of Whey Protein with Amino Acids Contributing to Muscle Growth and Maintenance
Product Overview

Put The World's #1 To The Test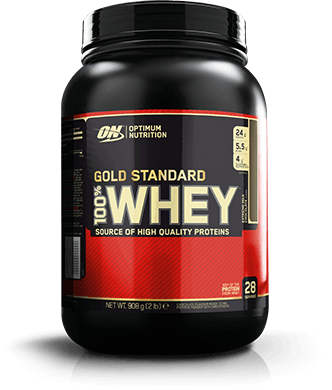 Optimum Nutrition's Gold Standard 100% Whey supports muscles repair, helping the body prepare properly for what is to come. It's rapidly digested, meaning it kick starts muscle protein synthesis – muscle growth – soon after intake. It's also rich in amino acids, particularly branch chain amino acids (BCAAs) which are delivered to muscles fast after exercise. Over 30 years of expertise in engineering protein lies behind the production of our Gold Standard 100% Whey protein. Manufactured by our scientists and nutritionists in our own start-of-the-art facility means that we never compromise on quality, taste or consistency.
Using Gold Standard 100% Whey protein after each workout can help ensure your body is in the best shape possible when it's time to hit the weights room again. 24g Protein Great Taste Quality
The Choice Is Yours!
Ratings & Reviews
What's in Optimum Nutrition Gold Standard 100% Whey Protein
2 Lbs.

Banana Cream

Serving Size About 1 Scoop (31g)

Servings Per Container

29

Amount Per Serving

Calories

120

% Daily Value *

Total Fat

1 g

1%

Saturated Fat

.5 g

3%

Cholesterol

40 mg

13%

Sodium

100 mg

4%

Total Carbohydrate

4 g

1%

Total Sugars

2 g

protein

24 g

48%

Calcium

130 mg

10%

Potassium

160 mg

4%

Not a significant source of trans fat, dietary fiber, added sugars, vitamin D and iron.

* The % Daily Value tells you how much a nutrient in a serving of food contributes to a daily diet. 2,000 calories a day is used for general nutrition advice.

Ingredients

Protein Blend (Whey Protein Isolate

, Whey Protein Concentrate

, Whey Peptides)

, Natural And Artificial Flavors

, Lecithin

, Salt

, Acesulfame Potassium

, Sucralose

, Yellow 5

, Lactase.

CONTAINS: MILK AND SOY.
Directions For Gold Standard 100% Whey Protein:
SPOON STIRRED:Gold Standard 100% Whey™ is INSTANTIZED. That means if you forgot your shaker cup or don't have time to get out the blender, you can just add one rounded scoop of Gold Standard 100% Whey™ to a glass filled with 180-240 ml (6-8 oz) of cold water or your favorite beverage. Then mix it up with a spoon. Stir for about 20 seconds or until powder is completely dissolved.
TIP: Adjust the intensity of your Gold Standard 100% Whey™ by varying the amount of liquid that you use to prepare it. For a bolder flavor with slightly more body and sweetness, mix each scoop with 4-6 oz of water, milk, or your favorite beverage. For a milder tasting, less sweet shake, use 8-10 oz of liquid per scoop.
SHAKER CUP: Bringing a shaker cup with you to the gym is the best way to get a powerful dose of protein immediately after your workout. Just pour in 6-8 oz of your preferred beverage and then add one rounded scoop of Gold Standard 100% Whey™ to your shaker cup. Cover and shake for 25-30 seconds.
BLENDER: Add one rounded scoop of Gold Standard 100% Whey™ to a blender filled with 6-8 oz of water, nonfat milk, or your favorite beverage. Blend for 20-30 seconds. Then add 1 or 2 ice cubes and blend for an additional 30 seconds
.
SHAKE UP YOUR SHAKE: By adding fresh or frozen fruits, peanut butter, flaxseed oil, coconut and other high-energy ingredients, you can transform your shake into a delicious high-protein meal.
STACK YOUR SHAKE: You can make Gold Standard 100% Whey™ an even more powerful recovery product by adding supplements like creatine, glutamine, BCAA, and concentrated carbohydrate powders.
THINK OUTSIDE THE GLASS: Gold Standard 100% Whey™ can be used for more than just protein shakes. Try mixing a scoop into oatmeal, yogurt, or the milk that you pour over your morning breakfast cereal. Better yet, boost the protein content of muffins, cookies, brownies, etc. by adding a scoop or two to your baked goods recipes.
SUGGESTED USE: Consume approximately 1 gram of protein per pound of body weight per day through a combination of high protein foods and protein supplements. For even better results, consume your daily protein allotment over several small meals spread evenly throughout the day.
Warnings: Do not exceed the recommended daily dose. This product contains whey derived from dairy and lecithin (to improve mixability) derived from soybeans. For use as a food supplement only. Do not use for weight reduction. Those who are pregnant, nursing or taking medication are advised to consult a physician before use. Food supplements should not be used as a substitute for a varied diet. Keep out of reach of children. Store in a cool, dry place.
NOTE: Not for use by those with pre-existing medical conditions or those taking any medications, those under the age of 18 or women that are pregnant or breastfeeding.
Flavoured Ready to Mix Protein Powder with Sweeteners
Made in the UK
Optimum Nutrition: 4 Waterside, Citywest Business Campus, Dublin 24, Ireland
* These statements have not been evaluated by the Food and Drug Administration. This product is not intended to diagnose, treat, cure, or prevent any disease.
---