Medi Evil
Creatine Monohydrate
, 600 Grams Unflavoured
Post-Workout Powder Contributing to Improved Workouts
Unflavoured Creatine with No Fillers or Additives to Support Physical Performance
Product Overview

Medi-Evil

Nutrition Creatine Monohydrate Powder 600g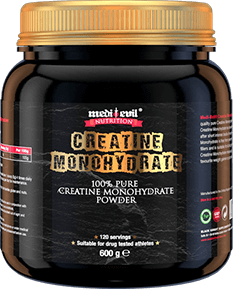 Improves recovery from intense exercise
Mixes easily
120 servings
Medi-Evil Nutrition Creatine monohydrate powder contains the highest quality pure Creatine monohydrate. In clinical studies Creatine monohydrate has been used by athletes to rapidly aid recovery, increase strength endurance, and support lean muscle gains. Creatine Monohydrate has been shown to improve recovery after short bouts of intense exercise. Creatine monohydrate powder is free from preservatives, packing agents and fillers and is suitable for all drug-tested athletes. Medi-Evil Nutrition Creatine monohydrate mixes easily with water, fruit juice or your favourite weight gainer or protein shake. Medi-Evil Nutrition Creatine Monohydrate is free from preservatives, packing agents and fillers and is suitable for all drug-tested athletes.
What is Creatine Monohydrate?
Creatine Monohydrate is one of the most commonly used supplements available, and has been so since its early development in the 1970's. Creatine Monohydrate among supplement users is known as 'the one that works' and has been fuelling athletes since its first discovery. Creatine Monohydrate is also one of the most clinically researched performance ingredients with many clinical studies showing many benefits that may include:
Rapid recovery after short intense bursts of exercise
Increased muscle size
Increased strength
Improved VO2 max
Who can use Creatine Monohydrate?
Creatine Monohydrate can be used by men or women and of any level. Creatine monohydrate will help speed up your recovery as well as increase athletic performance during explosive exercise. Creatine is easy to use and can be incorporated into your daily supplement regime without fuss.
Ratings & Reviews
What's in Medi Evil Creatine Monohydrate
600 Grams

Unflavored

Serving Size: 1 Scoop (5g)

Servings Per Container: 120

Per 5g Serving

Creatine Monohydrate

5 g

Ingredients:

Creatine Monohydrate

Allergies: Manufactured in a factory that handles gluten and nuts.
Directions For Creatine Monohydrate: For best results take 1 scoop (5g) 4 times daily for 5 days (Loading phase). Then 1 scoop per day for maintenance.
Warnings: Store in a cool dry place. This product is a food supplement and should be used in conjuction with food as a part of a healthy balanced diet, not as a substitute. This product is intended for adults and should be stored out of sight and reach of children. Do not exceed the recommended daily intake. If you are pregnant, breastfeeding, taking any medications, or under medical supervision, please consult a doctor or healthcare professional before use. Suitable for drug tested athletes. Always read label before use.
100% Pure Creatine Monohydrate Powder
Black Knight Supplements LTD Suite 36 88-90 Hatton Garden Holborn London EC1N 8PG
* These statements have not been evaluated by the Food and Drug Administration. This product is not intended to diagnose, treat, cure, or prevent any disease.
---