Product Overview

#CompeteHarder
The Most
Seething Intensity
Pre-Workout
Experience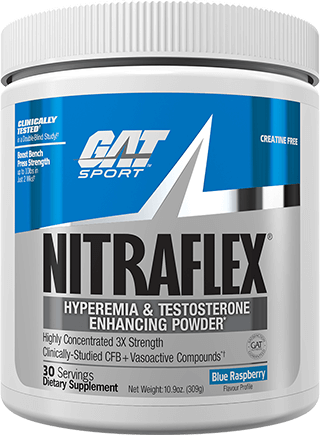 Nitraflex Advantages
Highly Concentrated
More Than 3X Strength
Clinically Studied CFB+
Vasoactive Compounds
Amazingly Delicious Flavors
1 Scoop Potency
Unique Properties of Some of the Key Compounds in Nitraflex:
High Citrulline: Arginine Ratio: Arginine is a proven precursor to nitric oxide (NO), a vasodilator.
Effective Dose of Beta-Alanine: The clinically-proven performance enhancer beta-alanine was not "fairy dusted" in this formula.
NITRAFLEX contains no creatine, making it ideal for pre-contest prep and lean muscle physique.
Cognitive Enhancers: NITRAFLEX contains unique ratios of scientifically validated compounds that help you remain alert, intense and focused while TRAINING.
Ratings & Reviews
What's in GAT NITRAFLEX Pre Workout
Serving Size 1 Scoop (10 grams)

Servings Per Container

30

Amount Per Serving

% DV

Niacin

25 mg

156%

Vitamin B12 (as Cyanocobalamin)

6 mcg

250%

Calcium (as Calcium Silicate and Calcium Fructoborate)

34.5 mg

3%

NITRAFLEX® PROPRIECEUTICAL BLEND

7240 mg

Vasoactive Arginase-Regulating NO Precursor Complex

N5-Carbamoyl-L-ornithine (Citrulline), 2-Amino-5-(carbamoylamino)pentanoic acid (Citrulline malate), (S)-2-Amino-5-guanidinopentanoic acid hydrochloride (L-Arginine HCl), L-Arginine Alpha-ketoglutarate, (E)-5-(4-hydroxystyryl)benzene-1,3-diol (Resveratrol), 4-((E)-2-(3,5 dimetho-xyphenyl) ethenyl)phenol (Pterostilbene)

Acute Energy, Focus, Intensity, Neuromodulating, Endurance Complex

3-Aminopropanoic acid (as CarnoSyn®), ethanol, 2-acetylamino-3-(4-hydroxyphenyl)-propanoic acid (N-Acetyl-L-tyrosine), 1,3,7-Trimethyl-1H-purine-2,6(3H,7H)-dione (Caffeine), 2-Aminoacetic acid(Glycine), 2-Amino-4-(ethylcarbamoyl) butyric acid (Theanine)

EU GAT Sports Nitraflex Clinically-Studied Testosterone-Enhancing Complex

Calcium Fructoborate (CFB) US Patent #5,962,049

[Each scoop contains 325 mg of Caffeine]

Other Ingredients:

Pineapple Fruit Powder

, Citric Acid

, Silicon Dioxide

, Calcium Silicate

, Natural And Artificial Flavours

, Acesulfame Potassium

, Sucralose

, FD&C Red #40.
Directions For NITRAFLEX Pre Workout: Training days: Day 1: Begin by assessing your tolerance with half a serving of NITRAFLEX® mixed with 180-240 mL of cold water. Days 2 and beyond: Depending on tolerance, mix 1 serving (1 scoop) of NITRAFLEX® with 295 mL of cold water and consume within 30 minutes before working out. Non-training days: Take 1 serving (1 scoop) upon arising in the morning or before any physical activity. Do not take more than 1 serving in a single 24-hour period. Do not take within five hours of bedtime. Optional - Stack with PMP Stim-Free: Take 1 serving of Nitraflex® with 1 scoop of PMP Stim-Free Powder 30 minutes before training for even more dramatic effects.
Warnings: This product is strictly intended for use by healthy persons 18 years of age or older. Each serving (1 scoop) contains 325 mg of caffeine. Do not combine with other caffeine or stimulant-containing products. Follow the instructions for assessing your tolerance. Do not use if you are pregnant, nursing or trying to become pregnant. Do not use if you are currently unaware of your health status or if you have a medical condition including but not limited to heart, liver, kidney, or thyroid disease, psychiatric or epileptic disorders, high or low blood pressure, cardiac arrhythmia, recurrent headaches, enlarged prostate or glaucoma. Do not use if you are taking prescription or non-prescription medication of any kind including but not limited to MAO inhibitors, anti-depressants, aspirin or non-steroidal anti-inflammatory drugs. Do not use if you are prone to overheating or dehydration. After 8 weeks of use, take 1 week off before resuming use. Discontinue at least 2 weeks prior to surgery or if you experience rapid heartbeat, dizziness, severe headache or shortness of breath. This product contains a chemical known to the Stateof California to cause birth defects or other reproductive harm. KEEP OUT OF THE REACH OF CHILDREN. Do not exceed daily recommended dose. Food supplements should not be used as a substitute for a varied diet and a healthy life style. Store in Cool Dry place. Color Additive: Tartrazine (E102) Yellow 5 & Allura Red (E129) Red 40 may have an adverse effect on activity and attention in children.
Hight caffeine content (300 mg per serving). Not recommended for children or pregnant or breastfeeding women.
Food Supplement with Caffeine and Sweeteners
DISTRIBUTED BY: NUTRITION SYSTEMS 216 Walters Road, Arndell Park NSW 2148
* These statements have not been evaluated by the Food and Drug Administration. This product is not intended to diagnose, treat, cure, or prevent any disease.
---