EVLUTION NUTRITION
BCAA Energy
BCAA Powder with Natural Energizers for Focus and Recovery*
Perfect Anytime for Energy, Endurance, Recovery, and Muscle Repair*
Product Overview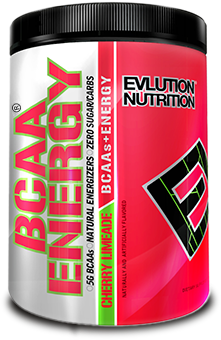 IMPROVED CONCENTRATION

INCREASED ALERTNESS

INCREASED ENDURANCE
PERFORMANCE CAPACITY

ZERO CALORIES / SUGAR

5G BCAA 2:1:1 RATIO
Ultrapremium BCAAs in Optimal 2:1:1 Ratio
L-LEUCINE
L-ISOLEUCINE
L-VALINE
A well-rounded diet is important but supplementation can be used to fill any dietary gaps not met by the diet. BCAAs are called essential amino acids because they cannot be synthesized by the body.
Concentration, Alertness And Endurance Performance Boosters:
CAFFEINE
Caffeine contributes to an increase in endurance performance. (Beneficial effect is obtained with caffeine consumption at doses of 3 mg/kg body weight at least one hour prior to exercise and only if any other caffeine consumption is avoided for at least 12 hours prior to consumption of the product in habitual caffeine consumers.)
BETA-ALANINE
L-ALANINE
TAURINE
Vitamin Boosters:
Vitamin C
Contributes to maintaining the normal function of the immune system during and after intense physical exercise.
Vitamin B12
Contributes to the reduction of tiredness and fatigue.
Vitamin B6
Contributes to normal protein and glycogen metabolism.
WHO?
Fitness Enthusiasts and Athletes! BCAA Energy® has been designed to increase your endurance, reduce tiredness and fatigue.
WHAT?
5g of the highest quality BCAAs per serving combined with Beta Alanine, L-Alanine and Taurine to enhance endurance and performance. BCAA Energy® uses concentration, alertness and endurance performance boosters to help maintain energy and focus during a training session.
WHEN??
Anytime! Use as an energy boost anytime you would typically reach for a coffee, soda or energy drink. Customize your experience based on occasion with 1-serving for mild energy and 2-3 servings for more intense anytime energy or performance while training.
WHY TAKE IT?
BCAA Energy® contains the highest quality of BCAAs and natural energizers along with zero sugar and carbs. Nothing else offers so many benefits! Once you make the switch, you will never go back!
MAKE THE BEST CHOICE FOR ENEGY
With zero carbs and zero sugar why turn to coffee, soda, or sugary energy drinks?
HOW MUCH ENERGY DO YOU NEED?
| OCCASION | ANYTIME ENERGY | MODERATE ENERGY | MAXIMUM ENERGY |
| --- | --- | --- | --- |
| NUMBER OF SCOOPS | 2 SCOOPS | 4 SCOOPS | 6 SCOOPS |
| BCAA LEVEL | 5 grams | 10 grams | 15 grams |
| TOTAL AMINOS | 6.5 grams | 13 grams | 19.5 grams |
Ratings & Reviews
30 Servings
£0.53 Per Serving
What's in EVLUTION NUTRITION BCAA Energy
30 Servings

Furious Grape

Serving Size 2 Scoops (10.1g)

Servings Per Container 30

Amount Per Serving

%DV

Vitamin C

90 mg

150%

Vitamin B6 (As Pyridoxine HCL)

10 mg

500%

Vitamin B12 (As Methylcobalamin)

30 mcg

500%

Sodium

80 mg

3%

2:1:1 BCAA Matrix

L-Leucine

2,500 mg

†

L-Isoleucine

1,250 mg

†

L-Valine

1,250 mg

†

Beta-Alanine (as CarnoSyn®)

500 mg

†

L-Alanine

500 mg

†

Taurine

500 mg

†

Natural Energizers

110

mg

†

Natural Caffeine (From Coffee Bean), Green Tea Extract, (Standardized for EGCG)(leaf)

‡ Percent Daily Values are based on a 2,000 calorie diet.

† Daily Value not established.

Other Ingredients:

Malic Acid

, Natural And Artificial Flavor

, Citric Acid

, Trisodium Citrate

, Silica

, Sucralose

, Acesulfame Potassium

, FD&C Red 40

, FD&C Blue 1
Directions For BCAA Energy:
As a dietary supplement Mix two scoops of BCAA ENERGY™ in 8-10 oz of cold water (vary amount of water by taste preference) Best taken with food.
FOR ANYTIME ENERGY & BCAAs: Use 1 serving (2 scoops).
FOR MODERATE ENERGY & BCAAs: Use 2 servings (4 scoops).
FOR MAXIMUM ENERGY & BCAAs: Use 3 servings (6 scoops).
Warnings: Do not use more than 4 total servings per day. BCAA ENERGY contains caffeine and beta alanine. Beta Alanine can create a temporary tingling feeling on your skin. This is normal and diminishes with continued use. This product is only intended for use by healthy adults over the age of 18. Do not exceed recommended serving amounts or daily intake. Do not use this product if you are pregnant, contemplating pregnancy or nursing, if you have any pre-existing medical condition, or if you are taking any prescription or OTC medications. Discontinue use two weeks prior to surgery. This product contains caffeine. Do not use if you are caffeine sensitive. Keep out of reach of children. Product contains 110mg of caffeine per serving.
* These statements have not been evaluated by the Food and Drug Administration. This product is not intended to diagnose, treat, cure, or prevent any disease.
---