EFECTIV Nutrition
Mass
Protein & carbohydrate powder for building mass
40g of protein and over 1,000 calories per serving, enriched with vitamins, Creatine, L-Glutamine & Beta Alanine
Product Overview

EFECTIV uses only the latest flavour technologies to ensure you enjoy every delicious mouthful. Each creamy shake is packed with 40g of premium muscle building proteins, energy-releasing nutrients and 199g of energy-containing carbohydrates.
Each serving contains over 1000 calories and a carefully chosen selection of essential vitamins and minerals to support the body's nutrient requirements during intense workouts and sport.
Making it the perfect choice for weight trainers and sports people who find it difficul to consume enough calories to fuel their daily activities or mass building plans.
Use EFECTIV MASS anytime during the day but ideally, before or after exercise in conjunction with your nutrition and training programme to aid in the development of lean muscle, strength & power.
40g Protein
1010 Calories per Serving
199g Carbs, 1g Sugar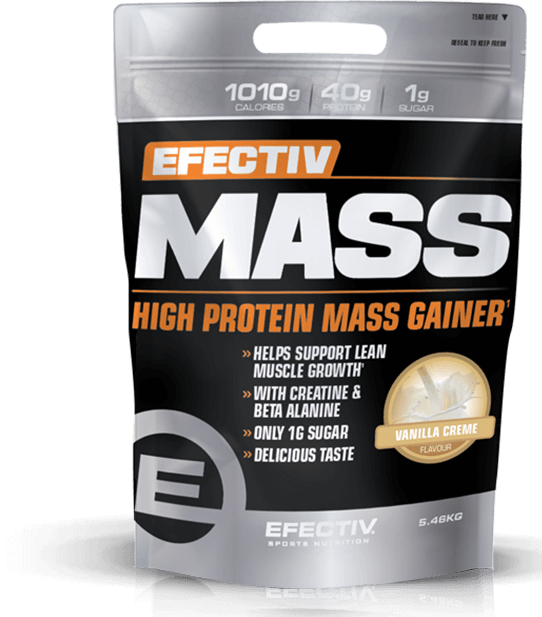 Ratings & Reviews
What's in EFECTIV Nutrition Mass
Serving Size 3 Scoops (260g)

Servings Per Container

20

Per 260g Serving

%RI *

Energy

4,225 kJ

50%

-

1,001 kcal

50%

Fat

5.2 g

7%

Of which saturates

.8 g

4%

Carbohydrate

198.9 g

76.5%

Of which sugars

1.3 g

1%

Protein (DB)

39.3 g

79%

Salt

.5 g

9%

* RI = Reference intake of an average adult (8400kJ/2000kcal)

Potassium

1,550 mg

77%

Calcium

598 mg

75%

Magnesium

309 mg

83%

Phosphorus

1,217 mg

174%

Manganese

3 mg

130%

Zinc

8 mg

78%

Chromium

31 mcg

78%

Thiamin

.88 mg

80%

Riboflavin

1.12 mg

80%

Niacin

12.8 mg

80%

Pantothenic Acid

4.8 mg

80%

Vitamin B6

1.12 mg

80%

Vitamin B12

2 Ug

80%

Vitamin C

64 mg

80%

Vitamin D

4 Ug

80%

Vitamin E

9.6 mg

80%

Other Ingredients

Creatine Monohydrate

1,600 mg

L-Glutamine

400 mg

Beta Alanine

200 mg

Ingredients:

Maltodextrin

, Whey Protein Concentrate (Milk)

, Reduced Fat Cocoa Powder

, Milk Protein Concentrate

, Sunflower Oil Powder

, Potassium Phosphate

, Calcium Caseinate (milk)

, Egg Albumin

, Creatine Monohydrate

, Flavouring

, Calcium Carbonate

, Magnesium Oxide

, L-Glutamine

, Beta Alanine

, Thickener (Carboxymethyl Cellulose)

, Sweetener (Sucralose)

, Vitamin C (Ascorbic Acid)

, Zinc Gluconate

, Vitamin E (dl-Alpha Tocopheryl Acetate)

, Manganese Gluconate

, Vitamin B3 (Nicotinamide)

, Vitamin B5 (Calcium D-Pantothenate)

, Vitamin D (Cholecalciferol)

, Vitamin B2 (Riboflavin 5 Phosphate Sodium)

, Vitamin B6 (Pyridoxine Hydrochloride)

, Vitamin B1 (Thiamine Hydrochloride)

, Chromium Picolinate

ALLERGY ADVICE: For Allergens See Ingredients in Bold.
Directions For Mass: As a supplement to your daily diet, mix 3 scoops (260g) with 500-600ml of cold water depending on your desired consistency. Mix water and EFECTIV MASS in a shaker. Additional servings may be used to meet your daily protein requirements.
Warnings: Do not exceed recommend intake. Do not use as a substitute for a varied and balanced diet and a healthy lifestyle. Store in a cool, dry place. KEEP OUT OF REACH OF CHILDREN
High Protein Food Supplement
Manufactured and Distributed in the EU by EFECTIV NUTRITION
Tuscany House, Beata Road
Chesterton, Newcastle-Under-Lyme
Staffordshire, ST5 7UT
* These statements have not been evaluated by the Food and Drug Administration. This product is not intended to diagnose, treat, cure, or prevent any disease.
---