What's in Dymatize ISO100
2.2 Kilograms

Chocolate Coconut

Serving Size: 1 scoop (32g)

Servings Per Container:

68

per 32 g *

Energy

481 kJ

-

114 kcal

Fat

.6 g

of which saturates

.3 g

Carbohydrate

1.1 g

of which sugars

.5 g

Protein

25 g

Salt

.45 g

* per 32 g in 240 ml (8 oz) water

Ingredients:

Hydrolized whey protein isolate (milk) (46%)

, whey protein isolate (milk) (42%)

, fat reduced cocoa powder

, emulsifiers (soy lecithin

, sunflower lecithin)

, flavourings

, salt

, flavor enhancer (potassium chloride)

, sweeteners (sucralose

, steviol glycosides).

Allergens listed in BOLD.
Directions For ISO100: 1-2 portions per day. Enjoy prior to workouts, after workouts or anytime you desire a high-protein drink. Mixing Instructions: Add 1 scoop (included) to 240 ml (8 oz) of water, milk or a drink of your choice and mix thoroughly.
* These statements have not been evaluated by the Food and Drug Administration. This product is not intended to diagnose, treat, cure, or prevent any disease.
Dymatize
ISO100
Whey Isolate Powder Contributing To Muscle Growth
Protein to Build and Maintain Muscle
Product Overview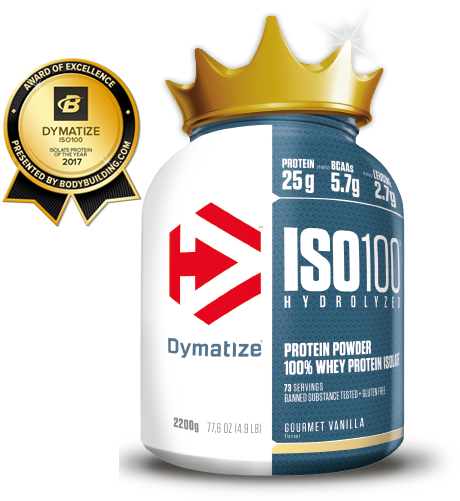 Amount Per Portion
Everyone looking for a lean and powerful physique knows about the challenge of supporting the promotion of muscle protein synthesis and assuring the right caloric intake for your physique goals. This requires highest product quality, providing the right quantity of protein with as little surplus calories as possible.
ISO100 HYDROLYZED is a super premium combination of hydrolyzed whey protein isolate and whey protein isolate – the most advanced formula from Dymatize®.Through enzymatic hydrolysis whey protein is broken down partially into amino acid chains which makes it very easy to digest. ISO100 HYDROLYZED is a perfect choice after and even before exhausting workouts. Free from sugar and fat it's super lean with less than 116 kcal per serving when mixed with water.
World's best selling isolate(2)
"Award winning isolate" four years in a row (2013-2016)
25 g of whey protein isolate per serving
Each serving contains 5,6–5,8 g BCAAs(1) including 2,6–2,7 g of the key amino acid L-Leucine, depending on flavour
Free from sugar and fat and less than 116 kcal per serving (mixed with water)
Free from gluten
Suitable for vegetarians
(1) BCAAs (branched chain amino acids: L-leucine, L-isoleucine, L-valine) are naturally occurring in protein
(2) More info at dymatize.com
All Dymatize products which hold the Informed-Choice certification have been tested for banned substances by the world-class sports anti-doping lab LGC. In addition, Informed-Choice ensures that all products have been manufactured to high quality standards and are safer for athletes to use.
Sizes and Flavours
2200g
900g
Why Dymatize
Do you have what it takes to be an athlete?
Since the day Dymatize was founded in 1994 in the United States, we have always believed perfection is achievable.
To meet this challenge, we are 100% committed to building athletic nutrition products that are masterfully formulated and produced with only the highest quality ingredients and deliver an increasing range of flavors and functionality. We strive for perfect products, we strive to set the bar higher and we continously build upon our high standards to get as close as we can to perfection. Because we are DYMATIZE. Perfecting Athletic Nutrition.
Do you have what it takes to be an athlete?
Ratings & Reviews
2.2 Kilograms
68 Servings | £0.88 Per Serving
2.2 Kilograms
73 Servings | £0.88 Per Serving
900 Grams
30 Servings | £1.10 Per Serving