Product Overview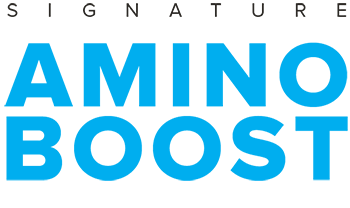 Amino Boost contains 8.5g branched-chain amino acids (BCAAs), which are building blocks of protein, in a 3:1:1 ratio of L-Leucine, Iso-Leucine, and L-Valine. We've also included caffeine, green tea extract, and electrolytes. It's perfect during all stages of your gym session: Pre-, intra-, and post-workout. [1]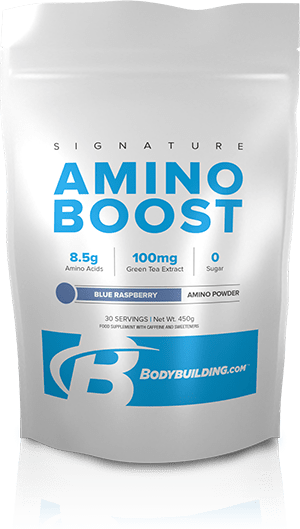 8.5

g

BCAAs
100

mg

green tea extract
100

mg

caffeine [1]
1Caffeine helps to increase alertness and to improve concentration. Do not exceed a daily intake of 300 mg of caffeine.
Caffeine contributes to an increase in endurance performance. The beneficial effect is obtained with caffeine consumption at doses of 3 mg/kg body weight at least one hour prior to exercise and only if any other caffeine consumption is avoided for at least 12 hours prior to consumption of the product in habitual caffeine consumers. A signature is a promise. A symbol of your identity. Your mark on the world. In 1999, Bodybuilding.com was founded on a single promise: Trust. It's who we are and it's in our blood. Our Signature line is built on the same promise. Every product is transparent, filler-free, and formulated with high-quality ingredients you can trust. We create the highest calibre supplements, so you can focus on leaving a mark of your own.
TOTAL TRANSPARENCY
We're proud to share with you what goes into each of our Signature products. We don't hide anything in a "proprietary blend", so you always know exactly what you're putting into your body.
WHAT'S IN IT
High-quality ingredients are what you need to help you achieve your fitness goals. That's what you'll find in Signature products because that's what works.
RESEARCHED-BACKED INGREDIENTS
Some supplement brands add a sprinkle of an ingredient just so they can say it's in their product. We never play games when it comes to formulating the best products we can give you.
SHOP ALL SIGNATURE PRODUCTS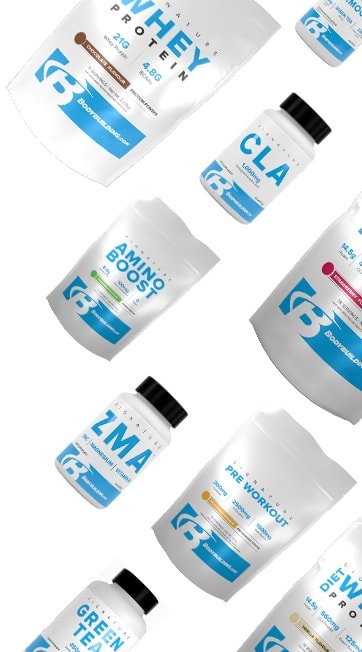 Ratings & Reviews
What's in Bodybuilding.com Signature Signature Amino Boost
450 Grams

Green Apple

Serving Size 1 Scoop (17.5g)

Servings Per Container

30

Per Serving Contains:

L-Leucine

3,000 mg

Beta-Alanine

1,500 mg

L-Isoleucine

1,000 mg

L-Valine

1,000 mg

L-Lysine

1,000 mg

L-Glutamine

1,000 mg

L-Threonine

800 mg

L-Methionine

800 mg

L-Arginine

700 mg

L-Tyrosine

700 mg

Caffeine

100 mg

Green Tea Extract

100 mg

Nutritional Information:

Per 15g serving

Energy

2 kcal

-

8 kJ

Fat

0 g

Carbohydrate

.5 g

of which Sugars

0 g

Fibre

0 g

Protein

0 g

Salt

.14 g

Typical Amino Acids Breakdown

L-Glutamic Acid

1 g

L-Isoleucine

1 g

L-Leucine

3 g

L-Lysine

.75 g

L-Methionine

.5 g

L-Threonine

.5 g

L-Tryptophan

0 g

L-Tyrosine

.75 g

L-Valine

1 g

Vitamin & Minerals

% NRV

Potassium

134.7 mg

7%

Chloride

114.9 mg

14%

Calcium

101.5 mg

13%

Phosphorus

53.3 mg

8%

Magnesium

48.4 mg

13%

Sodium

59 mg

2%

Ingredients:

Amino Fuel Blend (Instantised L-Leucine

, L-Isoleucine

, L-Valine)

, (Soy Lecithin)

, Amino Acid Blend (L-Glutamine

, L-Lysine

, L-Threonine

, L-Methionine

, L-Arginine

, L-Tyrosine)

, Beta Alanine)

, Acidity Regulators (Citric Acid

, and Malic Acid)

, Maltodextrin

, Flavouring

, Electrolyte Fusion (Magnesium Citrate

, Calcium Carbonate

, Dl-Potassium Phosphate

, Sodium Chloride)

, Energy and Metabolic Support Blend (Caffeine

, Green Tea Extract (Camellia Sinensis)

, Natural Colour (Vegetable Yellow

, and Spirulina Blue Powder)

, Sweetener (Sucralose

, and Acesulfame K).

For allergens, including Cereals containing Gluten, see ingredients in bold.
Directions For Signature Amino Boost: Mix 15g (one slightly heaped scoop) in 300ml water.
Warnings: Do not exceed the recommended daily dose. Food supplements should not be used as a substitute for a varied diet and a healthy lifestyle. Keep out of the reach of children. Once mixed keep chilled and consume within 3 hours. Store in a cool, dry place.
Food Supplement with Caffeine and Sweeteners. Contains caffeine (100mg/ per serving), not recommended for children or pregnant women.
Signature Amino Boost is suitable for Vegetarians and Vegans.
Colour additive: Carmoisine (E122) may have an adverse effect on activity and attention in children
Manufactured in the UK for: Bodybuilding.com (UK) Ltd., Units 7-8 Foster Avenue, Dunstable, Bedfordshire, LU5 5TA.
* These statements have not been evaluated by the Food and Drug Administration. This product is not intended to diagnose, treat, cure, or prevent any disease.
---