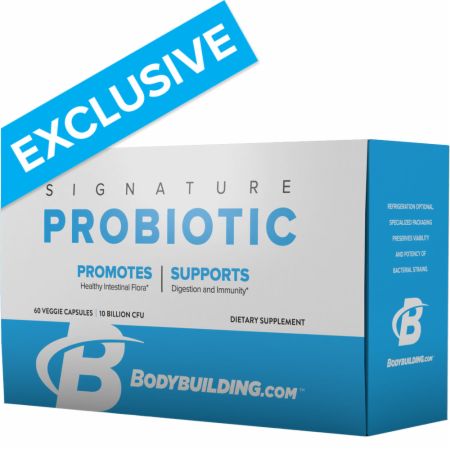 Bodybuilding.com Signature
Probiotic
, 60 Capsules
Boost Immune Health and Support Digestion*
3 Beneficial Bacterial Strains, Live and Active Cultures In Specialized Packaging*
Product Overview
Proudly supports first responders & nurses with Bodybuilding.com and ID.me. Verify Here
Promotes Healthy Intestinal Flora*
Supports Digestion and Immune System Response*
A healthy digestive system means better breakdown of food. Your intestinal flora, or the probiotic bacteria living in your intestinal tract, are also a crucial part of your immune system. Signature provides the clinically studied amount (10 CFUs) of three proven probiotic strains. Specialized packaging keeps them alive and effective without refrigeration.
3 Beneficial Bacterial Strains
Live and Active Cultures
Specialized Packaging
Lactobacillus Acidophilus
La-14
This highly studied form of probiotic helps eliminate bad bacteria, reducing their negative effects. This also makes room for more good bacteria that help break down food, absorb certain nutrients, and support immunity and gut health.*
Bifidobacterium longum BB536
BB536 helps keep you…ahem…regular. It also supports your immune system by competing with bad bacteria. As you age, your body's supply of BB536 naturally decreases. Supplementing helps keep it at a beneficial level.*
Lactobacillius plantarum
DSM 6595
The lining of your intestinal tract is permeable so that nutrients can exit into your bloodstream. Occasionally, bad bacteria can slip through as well. Plantarum helps stop these uninvited guests. It also makes it harder for them to multiply.* A signature is a promise. A symbol of your identity. Your mark on the world. In 1999, Bodybuilding.com was founded on a single promise: Trust. It's who we are and it's in our blood. Our Signature line is built on the same promise. Every product is no-BS, transparent, filler-free, and formulated with effective doses of research-backed ingredients you can trust. We create the highest quality supplements, so you can focus on leaving a mark of your own.
Total Transparency
Signature products are formulated with high quality ingredients at effective doses that we're proud to share with you. We don't hide anything in a "proprietary blend", so you always know exactly what you're putting into your body.
Effective Doses
An effective dose is the amount of an ingredient that has been shown to deliver results. Some supplement brands add a sprinkle of an ingredient just so they can say it's in the product. Signature supplements always include enough to get the job done.
Research-Backed Ingredients
Trendy, flash-in-the-pan ingredients come and go. But time-tested, gym-proven ingredients are what you need to help you achieve your fitness goals. That's what you'll find in Signature products because that's what works.
Shop All Signature Products
Ratings & Reviews
What's in Bodybuilding.com Signature Probiotic
60 Capsules

Serving Size: 1 Veggie Capsule

Servings Per Container: 60

Amount Per Serving

Probiotic Blend: 10 Billion CFU†

Lactobacillus acidophilus La-14® (7 billion CFU), Bifidobacterium longum BB536® (2 billion CFU), Lactobacillus plantarum 6595 (1 billion CFU)

Fructo-oligosaccharides (from chicory root)

100 mg

†

† Daily value not established.

Other Ingredients:

Hypromellose

, Microcrystalline Cellulose

, L-Leucine

, Silica.

NO WHEAT, DAIRY, SOY, TREE NUTS, PEANUTS.
Directions For Probiotic: Take one capsule of Signature Probiotic daily, preferably with a meal.
Warnings: Consult your physician before using this product. Not for use by those under the age of 18 or by women who are pregnant, trying to become pregnant, or are nursing.
* These statements have not been evaluated by the Food and Drug Administration. This product is not intended to diagnose, treat, cure, or prevent any disease.
---