Beast Sports Nutrition
Creature Powder
Professional Strength Creatine Powder
Creatine Increases Physical Performance in Bursts of High Intensity Exercise
Product Overview
a new look. a new formula. creatine complex with five advanced forms of creatine to increase physical performance in bursts of high intensity exercise.1 it's a new age...for a whole new beast.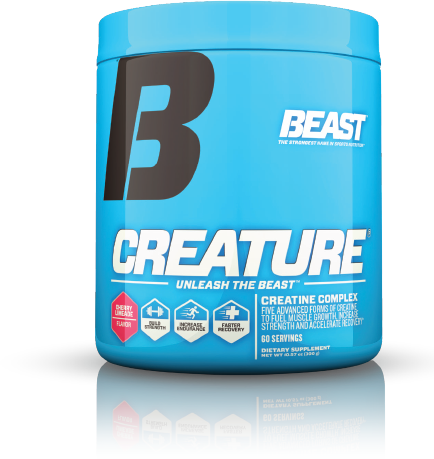 Creature®
demand the professional-strength creatine complex that uses five of the most advanced form available to increase physical performance in bursts of high intensity exercise.1 check out the all-new creature® —now with crea-trona®.
The creatine behind creature®
Unleash the Beast
Creatine fuels intense weight training and endurance activities to push harder in successive bursts of short-term, high intensity exercise.1 Creature® is a blend of five top quality types of creatine.
Creapure® brand Creatine is imported from Germany utilizing a patented manufacturing process, Creatine MagnaPower® is made up of Creatine and Magnesium-bound to form Magnesium Creatine Chelate, Creatine AKG is Creatine-bound to Alpha-Ketoglutaric Acid, and Creatine Anhydrous is Creatine with the water molecule removed.
The fifth ingredient is our newest addition—Crea-Trona®. This buffered form of creatine delivers a results-inducing ratio of 94% creatine to 6% buffering agent. Alzchem, the German company which also manufactures Creapure®, produces this true molecularly-bonded compound. Combined with the other four complexes, Crea-Trona® helps Creature® truly outperform our competitors.
Specifically-chosen, our ingredients' purity levels are higher. As part of the reformulation, Creature® also includes Astragin® and Cinullin®.
1Beneficial effect is obtained with a daily intake of 3 g of creatine.
---
creature® is designed to work with the entire beast supplement lineup. this team of products is ready to help anybody who is serious about improving performance1 and keeping healthy.
---
Ratings & Reviews
† This price is the retail price for this product found at one or more retail websites in the last 30 days. The price may not include shipping cost, tax, sale or promotional prices, or discounts such as member pricing. Prices may change. Bodybuilding.com verifies this price every 30 days.
CLEARANCE 40% OFF
60 Servings
£0.40 Per Serving
60 Servings
£0.40 Per Serving
What's in Beast Sports Nutrition Creature Powder
60 Servings

Grape

Serving Size: 5 g (1 Scoop)

Servings Per Container:

60

Amount Per Serving

% DV

Calories

0

Biotin (as D-Biotin)

200 mcg

67%

Chromium (as Chromium Picolinate)

50 mcg

42%

Creature® Advanced Creatine Blend

4,000

mg

**

Creapure® Brand Creatine Monohydrate, Di-Creatine Malate, Creatine Anhydrous, Crea-Trona® (Buffered Creatine), Creatine Gluconate

Insulinogenic Co-Factors Blend

90

mg

**

Banaba Leaf Extract, Cinnamon Bark PE 4:1, Biotin (as d-Biotin), Chromium Picolinate

* Percent Daily Value (DV) based on a 2,000 calorie diet

** Daily Value Not Established

Other Ingredients:

Citric Acid

, Natural and Artificial Flavors

, Waxy Maize Starch

, Silica (anti caking)

, Beet Juice Powder (for color)

, Sucralose

, FD&C Blue #1

ALLERGEN WARNING: This product was produced in a facility that may also process ingredients containing milk, eggs, soybeans, shellfish, fish, tree nuts, and peanuts.
Directions For Creature Powder: As a dietary supplement, use one (1) level scoop with 6-8 oz. of water 30 minutes prior to workout and again 30 minutes after workout. On non-workout days use one (1) level scoop with 6-8 oz of with water in the morning and again in the evening. Always take with plenty of water.
Warnings: Check with a qualified healthcare professional before using this product, or any dietary supplement, if you are under the age of 18 or if you have any known or suspected medical condition(s) and/or are taking any prescription or OTC medication(s). Do not use if seal is broken or missing. KEEP OUT OF REACH OF CHILDREN.
* These statements have not been evaluated by the Food and Drug Administration. This product is not intended to diagnose, treat, cure, or prevent any disease.
---