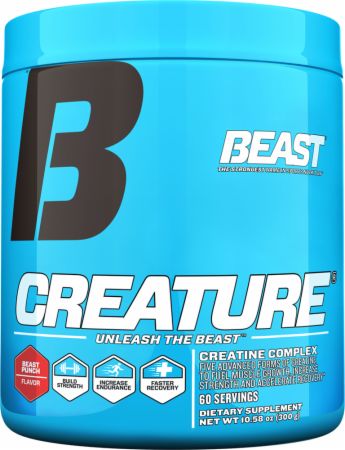 Beast Sports Nutrition
Creature Powder
Professional Strength Creatine Powder
Creatine Increases Physical Performance in Bursts of High Intensity Exercise
Product Overview
a new look. a new formula. creatine complex with five advanced forms of creatine to increase physical performance in bursts of high intensity exercise.1 it's a new age...for a whole new beast.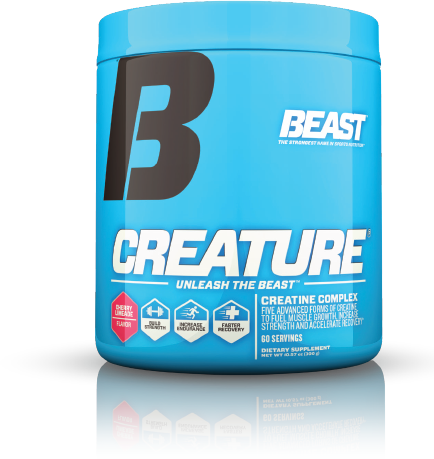 Creature®
demand the professional-strength creatine complex that uses five of the most advanced form available to increase physical performance in bursts of high intensity exercise.1 check out the all-new creature® —now with crea-trona®.
The creatine behind creature®
Unleash the Beast
Creatine fuels intense weight training and endurance activities to push harder in successive bursts of short-term, high intensity exercise.1 Creature® is a blend of five top quality types of creatine.
Creapure® brand Creatine is imported from Germany utilizing a patented manufacturing process, Creatine MagnaPower® is made up of Creatine and Magnesium-bound to form Magnesium Creatine Chelate, Creatine AKG is Creatine-bound to Alpha-Ketoglutaric Acid, and Creatine Anhydrous is Creatine with the water molecule removed.
The fifth ingredient is our newest addition—Crea-Trona®. This buffered form of creatine delivers a results-inducing ratio of 94% creatine to 6% buffering agent. Alzchem, the German company which also manufactures Creapure®, produces this true molecularly-bonded compound. Combined with the other four complexes, Crea-Trona® helps Creature® truly outperform our competitors.
Specifically-chosen, our ingredients' purity levels are higher. As part of the reformulation, Creature® also includes Astragin® and Cinullin®.
1Beneficial effect is obtained with a daily intake of 3 g of creatine.
---
creature® is designed to work with the entire beast supplement lineup. this team of products is ready to help anybody who is serious about improving performance1 and keeping healthy.
---
Ratings & Reviews
What's in Beast Sports Nutrition Creature Powder
60 Servings

Beast Punch

Serving Size: 5 g (1 Scoop)

Servings Per Container:

60

Amount Per Serving

% DV

Calories

0

Biotin (as D-Biotin)

200 mcg

67%

Chromium (as Chromium Picolinate)

50 mcg

42%

Creature® Advanced Creatine Blend

4,000

mg

**

Creapure® Brand Creatine Monohydrate, Di-Creatine Malate, Creatine Anhydrous, Crea-Trona® (Buffered Creatine), Creatine Gluconate

Insulinogenic Co-Factors Blend

90

mg

**

Banaba Leaf Extract, Cinnamon Bark PE 4:1, Biotin (as d-Biotin), Chromium Picolinate

* Percent Daily Value (DV) based on a 2,000 calorie diet

** Daily Value Not Established

Other Ingredients:

Citric Acid

, Natural and Artificial Flavors

, Waxy Maize Starch

, Silica (anti caking)

, Sucralose

, FD&C Red #40

ALLERGEN WARNING: This product was produced in a facility that may also process ingredients containing milk, eggs, soybeans, shellfish, fish, tree nuts, and peanuts.
Directions For Creature Powder: As a dietary supplement, use one (1) level scoop with 6-8 oz. of water 30 minutes prior to workout and again 30 minutes after workout. On non-workout days use one (1) level scoop with 6-8 oz of with water in the morning and again in the evening. Always take with plenty of water.
Warnings: Do not exceed the recommended daily dose. Food supplements should not be used as a substitute for a varied diet and a healthy lifestyle. Store out of the reach of young children. Consult with a qualified healthcare professional before taking this product if you are pregnant, nursing, under 18 years of age, or if you have any known or suspected medical condition(s). Store in a cool, dry place.
For Beast Punch flavour, Allura Red (E 129, FD&C Red #40) may have an adverse effect on activity and attention in children.
For Citrus flavour, Tartrazine (E102, FD&C Yellow #5) may have an adverse effect on activity and attention in children.
Food Supplement with Sweetener.
* These statements have not been evaluated by the Food and Drug Administration. This product is not intended to diagnose, treat, cure, or prevent any disease.
---