25,000,000+
Orders Shipped

Fastest
Shipping

Lowest
Prices

24/7/365
Live Support
Largest
Selection
Product Overview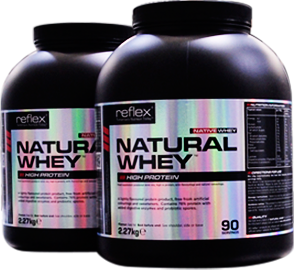 Natural Whey™
per 25g serving
HIGH PROTEIN
This product has been formulated for those people who want the very purest of whey proteins. Whilst it still contains native whey (78% protein), is low in fat and carbohydrates, it is the absence of artificial sweeteners, colours or flavourings that give this product its name.
Rich in branched chain amino acids which aid recovery, the formulation also contains a pro-biotic LactoSpore® and Digezyme Enzyme complex offered by few other brands.
To prove that we deliver on our label claims, all of our protein products are tested in our in-house protein testing facility and the results are published on our website. We also have batches randomly tested by independent, ISO accredited laboratories.
As with every Reflex product, if you are not 100% happy with it in any way, you may return the packaging and remaining product along with your proof of purchase for a full refund of your purchase price.
Native whey is produced by taking fresh skimmed milk and processing it at low temperature via complex ultra and membrane filtration capturing virtually every single highly valuable and biologically active protein fraction in its native form. As a result it contains up to 166% more bioavailble cystine and16% more leucine than other forms of whey.
Ratings & Reviews
By clicking the button above, you agree to entering the Bodybuilding.com Reviews section. Products in the Store are not intended to diagnose, treat, cure, or prevent any disease.