Hard Gainer Extreme
Whey Protein Powder For Serious Muscle Gain
Over 444 Calories and 34G of Protein and Complex Carbs
Supported Goal:
Build Muscle
Main Ingredient:
Whey Protein
25,000,000+
Orders Shipped

Fastest
Shipping

Lowest
Prices

24/7/365
Live Support
Largest
Selection
Product Overview
Hard Gainer
Extreme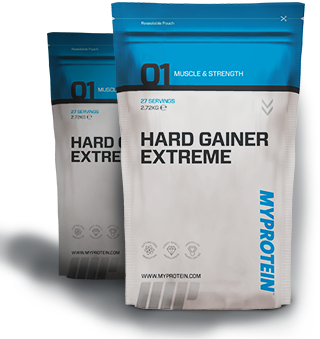 High source of BCAAs
Healthy fats and clean carbohydrates
Calorie Dense
HARD GAINER EXTREME
With a restricted diet, calorie intake can be much lower than desired. Hard gainer extreme is the intelligent way to increase your calorie count, packed with healthy calories that can be taken with or in between meals and even with post workout shakes.

Every 100grams is packed with 440 calories and 35 grams of high quality protein. The hard gainer extreme contains clean, simple and complex carbohydrates as well as the healthy fat source flaxseed.

Protein contributes to the growth and maintenance of muscle mass. Hard Gainer Extreme also contains a large profile of BCAAs.
Ratings & Reviews
By clicking the button above, you agree to entering the Bodybuilding.com Reviews section. Products in the Store are not intended to diagnose, treat, cure, or prevent any disease.