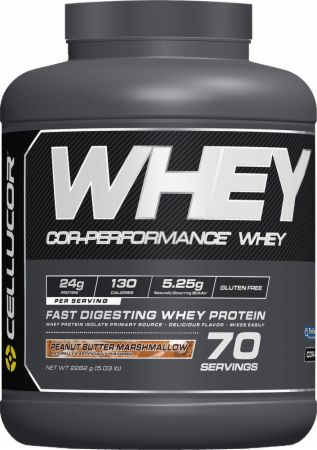 COR-Performance Whey
Blended Whey Protein to Support Muscle Growth
Great Tasting Protein With Added Digestive Enzymes
Supported Goal:
Build Muscle
Main Ingredient:
Whey Protein
25,000,000+
Orders Shipped

Fastest
Shipping

Lowest
Prices

24/7/365
Live Support
Largest
Selection
Product Overview
100% WHEY PROTEIN
Fast acting protein powder to help maintain and build muscle
SATISFY YOUR SWEET TOOTH
Choose from a variety of dessert-inspired flavors
360° VIEW OF
COR-PERFORMANCE WHEY
Packed with protein to help maintain and build muscle
Dessert inspired flavors
Great as a snack, ingredient in recipes or to supplement your daily protein intake
SETTING THE NEW STANDARD IN PROTEIN, ONE SCOOP AT A TIME
COR-Performance Whey is an optimal source of protein when you're looking to maintain muscle, build muscle, and indulge your sweet tooth--guilt-free.
Every scoop of COR-Performance Whey is packed with a 25g blend of whey protein concentrate and isolate, as well as digestive enzymes so that you can satisfy your protein needs any time of the day.
GREAT TASTE & NOT LOADED WITH FAT/CARBS
You need carbs and you need fat, but do you need them in your protein supplement? When you want the benefits of protein with minimal carbs and fat, COR-Performance Whey is a great option.
GUILT-FREE INDULGENCE
COR-Performance Whey sets the bar high for protein. Cellucor's team of flavor experts is passionate about delivering the best-tasting protein money can buy. With a full line of dessert-inspired flavors, you'll have no problem satisfying your taste buds.
Don't take our word for it… Online fitness hub and retailer, Bodybuilding.com, named COR-Performance Whey the "Breakout Supplement of the Year" in 2013 for its premium formula and outstanding flavors.
GET CREATIVE
COR-Performance Whey is as versatile as it is delicious, making it the perfect ingredient for protein packed recipes. From pancakes and waffles, to puddings and ice cream, COR-Performance Whey lets you get creative with how you devour your protein!
Ratings & Reviews
By clicking the button above, you agree to entering the Bodybuilding.com Reviews section. Products in the Store are not intended to diagnose, treat, cure, or prevent any disease.